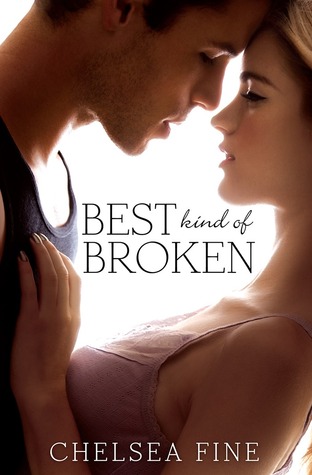 ARC via NetGalley in exchange for an honest review
You can find this review and check out my Goodreads here
I have heard buzz about the author Chelsea Fine but never had the chance to read her books and on a whim while scrolling through NetGalley and found her book I decided, today will be the day I finally read a book by Chelsea Fine. I clicked 'request' and later found I had been approved.
Best Kind of Broken was a read that I later found to be a book I have been wanting to read, not the specific book in general but the type. This read is about two childhood friends, Pixie and Levi, that want nothing to do with one another due to weird unresolved issues but have that insane attracting for one another that will not go away despite their actions of trying to stay apart.
I cannot tell you how much I adore best friend love stories, I am a huge sucker and will almost read any book that involves best friends and a secret love between the two.
This book was perfect for my mood at the time and I dove right into it, not emerging till I was almost through. Pixie moves to her aunt's hotel to live and work for awhile, though her aunt had a trick up her sleeve and 'accidently' did not tell Pixie that Levi was working at the hotel as well. Oh and that he was living in the room right across from hers. Having the share the same bathroom. Having to see one another every day. Having to maybe admit to some feelings.
I loved seeing the two banter with one another, fighting purposely rather admit to each other about what they were really feeling. I had quite a few laughs and a lot of smiles.
Another thing that I enjoyed was the pacing of their relationship, or to be relationship. It was slow, tantalizing slow, leading up to the climax to where it basically came down to all or nothing and I admire authors that incorporate that instead of the insta-love. I would rather read my love interests bickering but slowly falling for one another, it makes the love seem more real and innocent. Something sweet and raw.
I won't lie, there were also some steamy scenes I did not mind at all. Those worked too (:
Oh and also we have dual POVs! Rather than hearing one side of the odd story we get both and have a real insight as to what happened between the two and how the feelings were and how they emerge in the end, helping them realize what really went on. I liked reading from both POVs, usually I don't but this seemed fitting and I enjoyed it.
Thank you NetGalley and the publisher from approving me for the read, I gave it 4 fun loving stars! Thank you reader for checking out my review and look out for more to come!
Over and out.