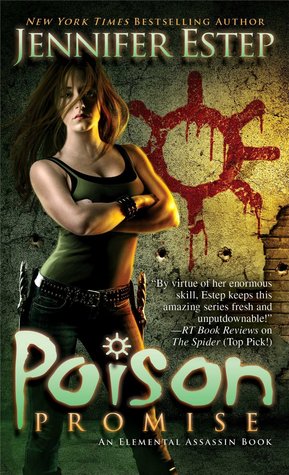 ARC via NetGalley in exchange for an honest review
You can find this review and check out my Goodreads here.
  Like all of Jennifer Estep's books (which I read them all) they are always full of action and never cease to bore you. Poison Promise is the 11th installment in the Elemental Assassin series and of course the fights are just as dirty, the kills are just as bloody and the outcome is always just as fulfilling. Lets take a moment for the amount of books in the series to sink in.
11 books. 11 books.
I can't believe it. I began my trek in the series about 3 years ago and flew through the books in my library in no way every thinking that in 3 years I would request an ARC in the next book and actually receive it. Oh and there us still two more books that are to come our way. Whose excited as I am?
Gin Blanco, nicknames as the assassin The Spider, is back in the next installment wanting anything but trouble but somehow trouble always seems to find her despite all odds and this time it has come in the form of a drug. When this drug nonsense drags in one of her employees Gin has no choice but to step in, though it may be more challenging than she expects and the mysterious M.M. Monroe starts to show up at the oddest times, only adding to Gin's list of people needed to take down.
I was very impressed with this book, with the characters – old and new – and especially the new villains. Gin has to be one of my favorite characters of all time, being that 1. She is a badass 2. Her sarcasm is excellent 3. She can kick anyone's ass if she pleases 4. I love her cunning attitude 5. She can cook and oh my gosh she can cook.
My favorite parts in the any of the Elemental Assassin books is when the author incorporated cooking/baking with Gin's everyday life. Yeah so what Gin comes home after brutally murdering (I use that term lightly, they did come at her first) douche's dumb enough to take her on and she decided to whip up cheesecake and eat like nothing was out of the ordinary? I don't even like cheesecake but dang, Jennifer Estep made cheesecake sound like the worlds best tasting dessert ever. Every scene that involved Gin constructing anything with food had me salivating with envy.
With every book there is a new plot twist and new person to piss Gin off, enough to the point of some war that will conclude of her finishing them off but this M. M. Monroe person is making things harder for Gin and she isn't sure if there is a way to stop everything this is coming her way. Throughout the whole book I am blazing through the pages trying to find something that tells me who Monroe person is and I was so upset when the answer was throughout the book. It only makes me more eager for the next book to see how things will go down and if Gin will stay on top. (Pssh I know she will)
Reading about the characters always gives me a smile on my face and I love the scenes with Gin and her foster brother, Finn. Ah just thinking about Finnegan Lane makes me smile and blush. Their sibling banter is something I look forward to when reading the books and Estep does not disappoint. Also Gin's other sibling, Bria had my emotions on a roll! One moment I would be happy to see Bria and then pissed because she was having issues and took it out on Gin. She frustrated me and I wanted to find out why.
Owen, Gin's boyfriend of sorts or lover as she calls it, is a character I wanted to see more of, and JoJo, our air elemental medicine specialist. Hopefully we see more of them in the next book? I know I sure do.
So the whole plot of the drugs going around, both to humans and elementals, haunts me a bit after we get a quick peak of the effects and we also know that this somehow connects to M.M. Monroe and ugh I want this Monroe family to end! Mab was enough, we don't need anymore Monroe's. I also hope to see how this new drug is applied more in the later books and see if it finally disposed of or if there will be more 'experiments'.
Thank you NetGalley and to the publishers for approving me for the read, I loved it and gave it 5 amazing blood filled stars! Thank you readers for reading the review and for those who have yet to read the Elemental Assassin series, go buy it! Like now! No regrets, and then we can discuss (:
Over and out.