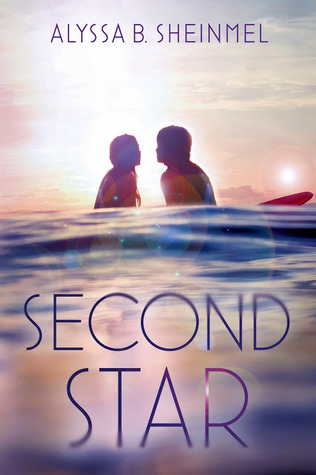 ARC via NetGalley in exchange for an honest review
You can find this review and check out my Goodreads here
I think I went into this book thinking too much of Peter Pan and was disappoint when I didn't get what I was expecting…..
Second Star follows Wendy Darling, who has just graduated from high school. You would think that any normal teenager would be happy, go to college, and finally leave home, even for a little while. However Wendy has no intention of leaving at all, all her attention of finding her younger brothers, Michael and John who both disappeared months before and never came home. Along the way she meets Pete, good looking and sweet Pete. She and Pete and this instant like to each other and he somehow is related to Michael and John missing, their whereabouts and such. Wendy also meets Jas, Pete's enemy of sorts who is also good looking and sweet. Wendy doesn't know how these two guys are related to her brothers disappearance but she intends to find out and also choose which one she should trust and which has been lying to her from the very start.
I liked the book, I did. Honest. I just didn't love it. Wendy was like a toddler to me at times with just the way she made decisions and how she chose to let her emotions take over and the worst times. I didn't like the insta-love she and Pete had going on, nor the Jas insta-love. She had no real clue about what she wanted, yes she wanted to find her brothers but I felt as if she was always side tracked by something or someone. She would be on the trail to finding them and then Pete or Jas would confuse her along the way.
Pete just got on my nerves throughout the whole book. I didn't know whether I should trust him or not, if he was really helping Wendy or if he was the 'bad guy' in the story. He was quite the protector of Wendy from the beginning, telling her who to talk to and who to not, and within a week he already loved her.
Jas, I admit, I did like a little. He was honest and forthcoming at times but also shady and mysterious like Pete. Then again in the book he is a drug dealer selling dust to kids and it turns out he is the person who got Wendy's brothers hooked on the drug and ultimately the reason they were away for so long. So yeah, turn off.
Though I did like the author's writing about the beach and surfing. It felt like a good summer read in the beginning, the calm waves, gritty sand and just the beach overall. The beach was probably my favorite setting through the whole book.
Also the ending is what threw me off the band wagon and I was so confused, heartbroken and disbelieving about what had gone down. Oh my goodness the questions that filled my mind at that point. I know I gave the book 3 stars, and I did like it but please if there was to be a sequel I would read it, even if it was only 50 pages or so long. I need to know how it all ends and what happens.
If you have read the book here are some questions that were floating through my mind, it may contain spoilers so if you haven't read the book I advise against it!
1. What the hell happened to Wendy? Does she ever go back to the beach?
2. Where did Pete and Jas go? What really happened to their 'friendship'?
3. Did Michael and John really die? Or is this a fluke to get our hearts pumping?
4. Wendy wasn't really crazy right? I mean she got the picture.
5. IS THERE A NOVELLA SOMEWHERE?
Thank you NetGalley and to the publishers for the read, I gave it 3 and a halfish stars. Thank you readers for checking out the review!
Over and out.