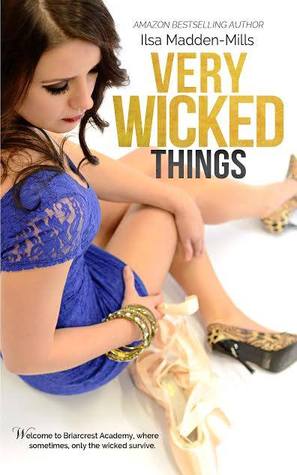 ARC via NetGalley in exchange for an honest review
You can also find this and check out my Goodreads here.
All around Goodreads I have seen this book or series being advertised and I have been desperately wanting to read it, then lo and behold this particular book was on NetGalley and I just had to get my hands on it! Not even a day later I was informed that I had been granted the book to review and everything else did not matter other than me reading this book and not stopping till I finished it.
I can't express how much I adored this read and how fast I finished it as well (: It was quick and also wasn't long enough for me, I wanted more (even though it ended pretty great) but then again I always think that about books I love and rave about.
Very Wicked Things is part of a series of stand alone books that happen with the same characters and place though usually do nothing to give away the next book or others of its series. This book, as far as I could tell, gave no inkling to the first and for that I was grateful because I still need to read the first.
This read takes place at Briarcrest Academy, a prestigious school for the talented and centers around two people who were once lovers, Dovey and Cuba, but would now rather stay away from one another at all costs. Dovey is a ballerina at the Academy on a scholarship showing them rich kids that she is just as good as anyone else while the boy who broker her heart, Cuba, is a star football player hiding behind his fame to stow away his hidden secrets.
Both are trying to admit that they no longer have feelings for one another but as the time goes by and they seem to get closer than ever they will realize what went wrong that one day it all fell apart but more secrets may threaten to keep them away.
I couldn't believe how much I loved this book and how quickly I related to Dovey and how Cuba instantly made me want to jump his bones. Dovey grew up on less than anyone could imagine and had to go through most of her childhood in the cold or without food for certain amounts of time. I understood her façade on not wanting handouts or being proud about not taking money or the low roads just to get to where she was going. I know, personally, aboutnot living the greatest life, without power, water, or heat and it was amazing to see her keep her chin high and never waver about the bad stuff. She was a great character to look up to.
Cuba is rich and hot. That is pretty much it.
Kidding. Cuba hides behind almost everything. His money, the girl on his arm, his friends and this only made me want to dig deep inside him and see what he was really about. And when I did all I wanted to do was grab him from the story and hug the living hell out of him, goodness all the boy wanted was love and he was looking in all the wrong places.
This read was also a second chance love story and those are my favorites! I love knowing that before everything turned crap there was a connection between our two protagonists and that we as readers know that there is way to get them back to each other and get the HEA everything wants. I also loved the flashbacks the author gives us in the story, a sort of background info we get to see how their relationship started out.
Overall I give this book 5 amazing stars. I loved the book, plot, characters, and love ploy! Hopefully there is more to the story and I hope to read the first as well to see what I have missed.
Thank you for reading and check out the book if you can!
Over and out.
P.S. Are you in love with cover as I am?! *swoons*